It took 148 years to elect a First Nations women to either Parliament or the Legislative Assembly from British Columbia.  Jody Wilson-Raybould blazed a new trail in last week's federal election.
I wrote earlier how Len Marchand was the first First Nations MP elected 47 years ago, in 1968.  He was also the last First Nations MP elected from BC, when he won the final time in 1974.
@IndigPoli has been providing news and updates about indigenous candidates throughout the federal election process.  The following table is taken from its Twitter feed, outlining the 42 MPs elected from First Nations, Inuit, Dene, and Metis ancestry since Confederation: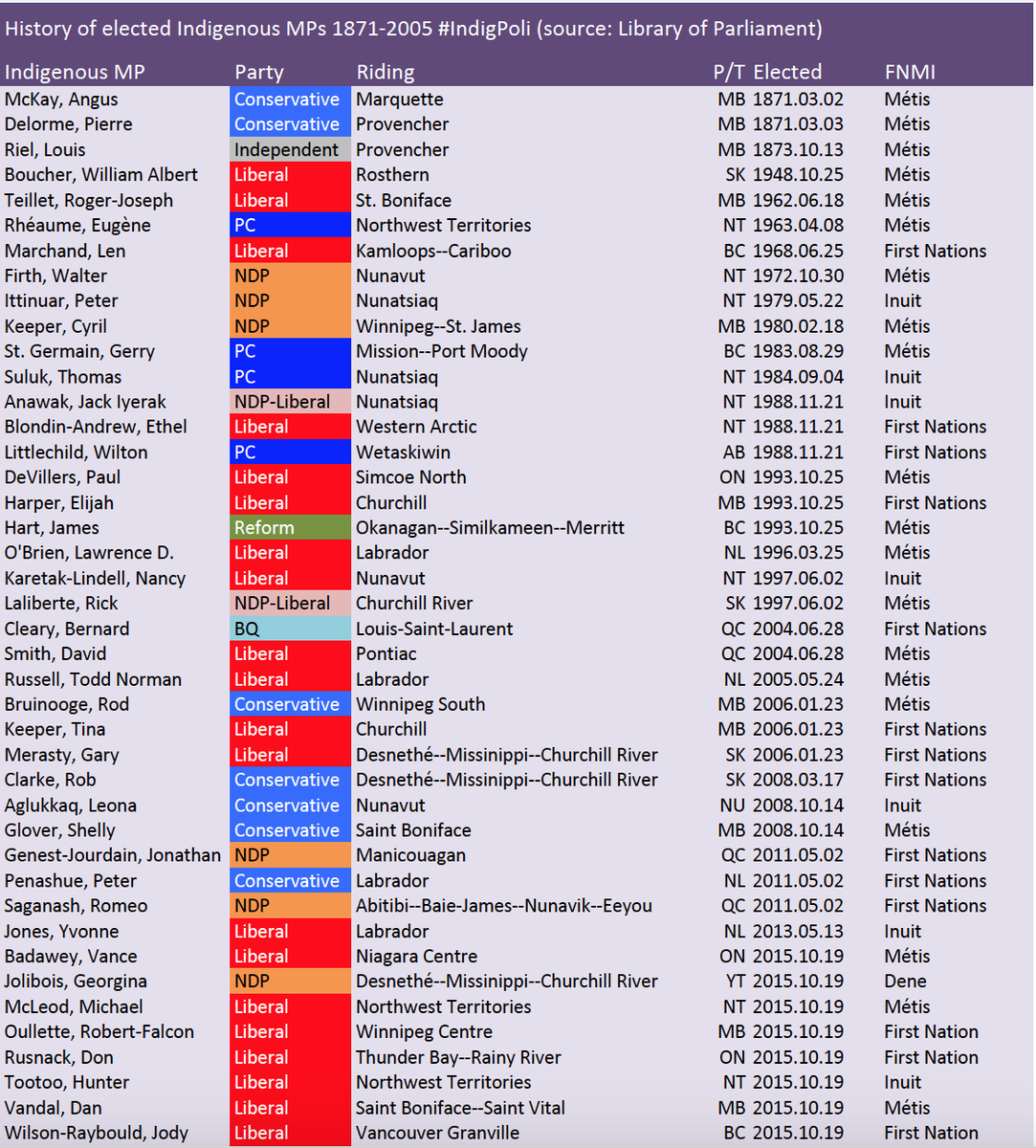 That's 42 indigenous MPs over 148 years –  10 from the 2015 election alone (8 new).  See CBC story.
1960 / 1949
Status Indians right to vote was recognized by Parliament in 1960, only 55 years ago, and 93 years into Canada's existence.  Prime Minister John Diefenbaker's Progressive Conservative government was in power at the time, and when Len Marchand was elected in 1968, he thanked Diefenbaker in Parliament for doing what previous federal governments had failed to do.
British Columbia had done so in 1949, whereupon Nisga'a leader Frank Calder was promptly elected in the riding of Atlin to the BC Legislature and continued for 30 consecutive years.  He was the first status Indian to be elected to any legislature in Canada and ultimately the first aboriginal cabinet minister in BC history.
Frank Calder sparked the most important rights and title case in Canadian history when Calder (1973), argued by Thomas Berger, went forward to the Supreme Court of Canada.  The Court ruled that title existed in a decision that reverberates today.
Why so few from BC?
Not a lot of First Nation candidates have run for office over the years and, clearly, not many have run in winnable seats.
I am not qualified to speak on the unique social, cultural, and financial barriers that many First Nations face in seeking office, but I am familiar with barriers that Canadians, in general, face when seeking office, and they are substantial for anyone when contemplating public office.  It's both the general election and the party nomination that are the challenge.
One reason why First Nations have been under-represented is the dispersed nature of their population.  There are not many ridings in BC where First Nations form a large 'bloc'.  And even when you look at the densest concentration of First Nations in a federal riding in BC – Skeena – the reality is that it is made up of many, many different nations, all with different traditions.
Look at Metro Vancouver or the GTA where we are seeing the election of MPs and MLAs from diverse backgrounds.  This is happening in part because of strength in numbers.  Their populations are concentrated in certain areas (eg. Chinese in Richmond, South Asians in Surrey) leading to the election of representatives from their community.  This hasn't happened to a large extent in Canada, except the North.  It certainly hasn't happened in BC.
Policies matter too, of course.  Haida leader Miles Richardson ran for the Liberals in Skeena in 2004 with high hopes but finished third to winning NDP MP Nathan Cullen.  Cullen has just been elected to his fifth term and enjoys strong support in First Nation communities.  While a person's background help, winning candidates usually have to swim with the tide of opinion in their riding.
I worked hard for Marion Wright, a former chief on the North Island.  She fell short in the 2009 election, despite our hopes.  She's yet another example of a First Nations candidate that would have made an impact, however, she ran up against issues that favoured the NDP.  While improving the party's standing among First Nations, she lost most FN polls.  Marion tragically passed away not long after that election – she had a lot more to contribute.
One of the keys to Jody Wilson-Raybould's success is running for the right party in the right riding at the right time.  She was a good candidate, but also had the benefit of swimming with the tide.
Len Marchand first won in 1968 amidst 'Trudeaumania' and built the support necessary to hang on in tougher elections in 1972 and 1974.  In 2015, Trent Derrick of the NDP had a chance in Cariboo-Prince George for the NDP but had the national momentum drain away.  If there are more First Nations candidates in viable seats, then more will be elected, simple as that.
Prescriptions
I wrote a term paper in university based on Len Marchand's work in the Senate concerning aboriginal representation.  Basically, Len argued that – at that time- aboriginal Canadians merited about 3-4% share of the House of Commons based on population but due to the dispersal of its population, did not reach that level.  He argued for guaranteed representation based on the aboriginal population in Canada.  It was hard not to agree with the idea.  We have guaranteed representation for PEI for pete's sake.  Guaranteed for Saskatchewan.  Guaranteed for Quebec.  Guaranteed for Nova Scotia and New Brunswick.  Special deals here.  Special deals there.
Geographic deals are one thing, but the idea of parliamentary seats based on background seems to go against the grain in Canada.  Perhaps this election is showing guaranteed representation may not be necessary, though there is still a long way to go before First Nations are represented in proportionate numbers.
The State of Maine has had two non-voting seats on the floor of the Assembly for the Penobscot and Passamaquoddy tribes since the early 1800s.  Is this a potential model – to provide a stronger voice for aboriginal people on the floor of the House if the numbers of elected members are not proportionate to their population?  (In 2015, the Penobscot and Passamaquoddy decided to vacate their longstanding seats over their concerns with the Maine government.)
First Nations have strong leaders at the community level, engaging with the federal and provincial governments on a nation-to-nation basis.  The argument that representing one's nation is more impactful, instead of being a small part of a larger parliamentary institution must be compelling.
One thing is certain, more aboriginal people voted this election and more were elected.  Parliament will be better informed by those perspectives as a result.  Len Marchand and Frank Calder have shown the type of impact they have had within these institutions.  Now it's Jody Wilson-Raybould's opportunity to blaze a new trail, 148 years in the making.