Media:
Column: British Columbia: Far and Away Federalism , Air Quotes Media (March 19, 2023). A look at BC's share of representation in Parliament, and what could be done to make it easier to represent Canada's farthest flung province.
Podcast: Herle Burly podcast, hosted by David Herle, with Geoff Meggs, former Chief of Staff to John Horgan (January 2023). Geoff and I survey the BC political landscape.
OP-ED: Straight to the Top Job, Vancouver Sun (July 19, 2022). An historical review of BC Premiers that come to office between elections.
Interview with David Herle on the Herle Burly, Canada's leading political podcast (July 15, 2022). We discussed the latest in BC and Canadian politics, and a little fashion advice.
The psychologies at work in Election 44 (September 9, 2021) published in The Orca
Comments on B.C. battleground: Parties can look to swing B.C. in Suburban Vancouver, say experts (September 2, 2021) in the Globe & Mail (via Canadian Press)
Comments on how the federal election is shaping up in BC in Zi-Ann Lum's post in Politico: How the West will be won (August 20, 2021)
Comments on the battleground in BC in Business in Vancouver (August 15, 2021)
OP-ED: Formula for redrawing B.C.'s electoral boundaries fails small communities, Vancouver Sun (May 22, 2021)
Comments on the inaugural Lily Chow Cedar-Bamboo Book Prize, awarded to Lily Chow, which will be given annually to a writer who exemplifies her spirit of multiculturalism, inclusivity and excellence, BC Historical Federation (November 4, 2020)
Interview with David Herle discussing the BC election, on the Herle Burly, Canada's leading political podcast. YouTube. (October 27, 2020)
My history of June 23, 1990 and the events leading up to it published in The Orca – Pivot Point (June 27, 2020)
BOOK Review: Native Hoop Dreams, a review of Rudy Kelly's All-Native, review published in The Orca (April 19, 2020)
Comments on the role of Opposition during COVID-19 crisis in Mike Smyth's new Global News column, Opposition politicians strive for relevance in the world of coronavirus politics, Global News website (April 2, 2020)
Comments on the federal race in Mike Smyth column, All eyes on B.C. as federal election comes down to the wire, The Province (October 19, 2019)
Analysis of B.C.'s '905' region and how it is a hotly contested battleground. Global News online (October 12, 2019)
Comments about opposition research and social media in "NDP candidate leaves race but says 'uncouth' social media posts from past shouldn't prevent participation", The Star (September 11, 2019)
Two-part history of the 1969 BC election campaign, including local history of my Dad's Liberal candidacy in Dewdney, featured in The Orca. Part 1. Part 2. (August 28 and 29, 2019)
BOOK REVIEW: Claiming the Land tells the story of B.C. and the making of the New Eldorado, published in the Vancouver Sun (April 20, 2019)
My blog post, Hot Take on PR Referendum Results, is quoted in theStar.com analysis by David Ball (December 23, 2018)
INTERVIEW: BC Liberal Convention live interview with The Orca, commenting on BC politics (November 3, 2018)
OP-ED: I was a Teenage Vote-Splitter – why I'm voting for First-Past-the-Post, published in The Orca (November 3, 2018)
My blog post, Pondering a Nanaimo by-election, quoted in Michael Smyth's column, The Province (October 25, 2018)
My blog post and comments on the Burnaby-South federal by-election and 'Leader's courtesy' was reported on by Alex Ballingall in the Toronto Star (October 18, 2018)
COMMENTARY: The tepid race to be Vancouver's next mayor, Global News/CKNW (October 15, 2018)
COMMENTARY: Surrey election may be BC's most consequential, Global News/CKNW (October 12, 2018)
COMMENTARY: Crowded races and changing times – the many ways candidates can seek your vote, Global News/CKNW (October 3, 2018)
COMMENTARY: Voter turnout in local elections trails federal and provincial elections – why?, Global News/CKNW (September 28, 2018)
COMMENTARY: A surprise exit opens up Vancouver's mayoral race, Global News/CKNW (September 21, 2018)
COMMENTARY: Wave of changes coming in Metro Vancouver politics, Global News/CKNW (September 15, 2018)
OP-ED: Who votes – and where – will decide Ontario election, Globe & Mail (June 6, 2018)
FEATURE: My family's brief but memorable brush with RFK, The Province (May 27, 2018)
OP-ED: Three lessons for Ontario from B.C. and the world of outrageous politics, Globe & Mail (March 2, 2018)
OP-ED: Throne Speech: What was all that about?, Vancouver Sun (August 18, 2017)
Comments on the BC Liberal leadership race, Globe & Mail (August 4, 2017)
On Christy Clark's decision to leave office, front page, Vancouver Sun (July 31, 2017)
CKNW 98 interview with Michael Smyth on Donald Trump's chances in the 2016 US election (August 2, 2016)
Interview with CBC's Richard Zussman on the next BC election in 2017 (May 10, 2016).
Wilf Hurd's book On the Edge of the Ledge recounting the rise of the BC Liberals between 1986-1991 is reviewed by Vaughn Palmer, which includes the "now legendary road trip" undertaken by Christy Clark and myself (February 27, 2016)
My blog post on by-election turnout was reported by Vaughn Palmer in the Vancouver Sun and by Ian Bailey in the Globe & Mail (February 4, 2016)
Adding comments to Globe & Mail story on BC's new federal cabinet representation (November 4, 2015)
Interview with CBC News on Social Media 'scandals' and the impact on candidate recruitment (October 1, 2015)
Interview with iPolitics on candidate vetting in the federal election – Parties too 'erratic' in bouncing controversial candidates, campaign vets say (September 27, 2015)
I recently (June 28, 2015) did a podcast with Province columnist Michael Smyth on the BC political scene. Smyth's column is here. "Economy looking good", I say.
Quoted in an extensive feature on Premier Christy Clark in MacLean's magazine (June 24, 2015)
'Four Campaign Vets and Insiders Dish on Historic Alberta Vote' – a report by The Tyee on a post-Alberta election panel hosted by the Broadbent Institute (June 2, 2015). The comments below the article are interesting. To me, they demonstrate two things: the futility of comment pages, and the impediment to the electability of the NDP posed by these perspectives.
Video of Broadbent Institute panel
Following TV Leaders' debate, April 2017:
Thanks to John Lehman for a great photo. Sums up 30+ years of political conversations for the two of us.
BC Liberal Convention 2016:
Was a great pleasure to meet Jim Messina, President Barack Obama's campaign manager and also a key strategist behind David Cameron's shocking 2015 majority in the UK. Messina, David Plouffe, and David Axelrod are definitely in my political hall of fame for their work with Obama.
It was a great privilege to address Convention delegates on the coming election with my friend Don Guy, who is Canada's smartest political mind.
Mike de Jong Roast:
Had a great time in January 2015 MC'ing a tribute to Finance Minister Mike de Jong's 20 years in politics. Back in 1994, I moved to Matsqui for a month to help with the campaign. De Jong, then a twenty-something country lawyer, knocked off a 'star' candidate in a nomination battle and hasn't looked back since. de Jong was feted by a high octane lineup which included NDP counterpart Mike Farnworth, Columnists Vaughn Palmer and Mike Smyth, and Premier Christy Clark. De Jong and Farnworth are both excellent parliamentarians who, across party lines, constructively deal with the business of the Legislature.
The Three Mikes at the Roast…
Vaughn Palmer and "Don Cherry":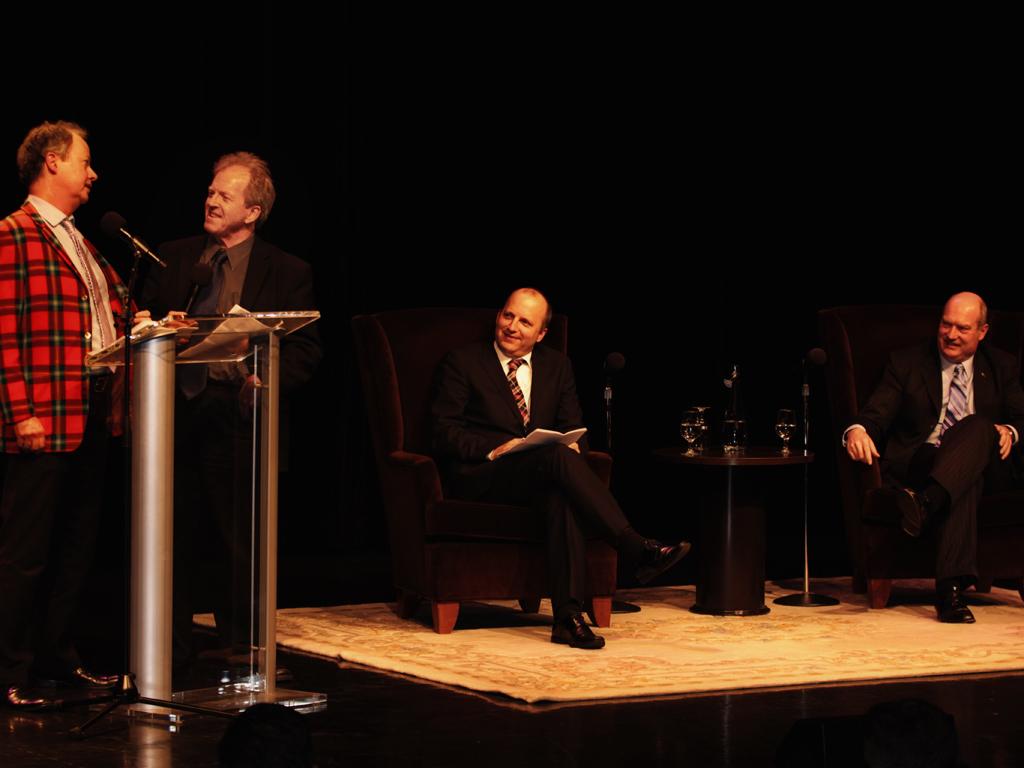 And the boss, with Finance Minister in deep thought …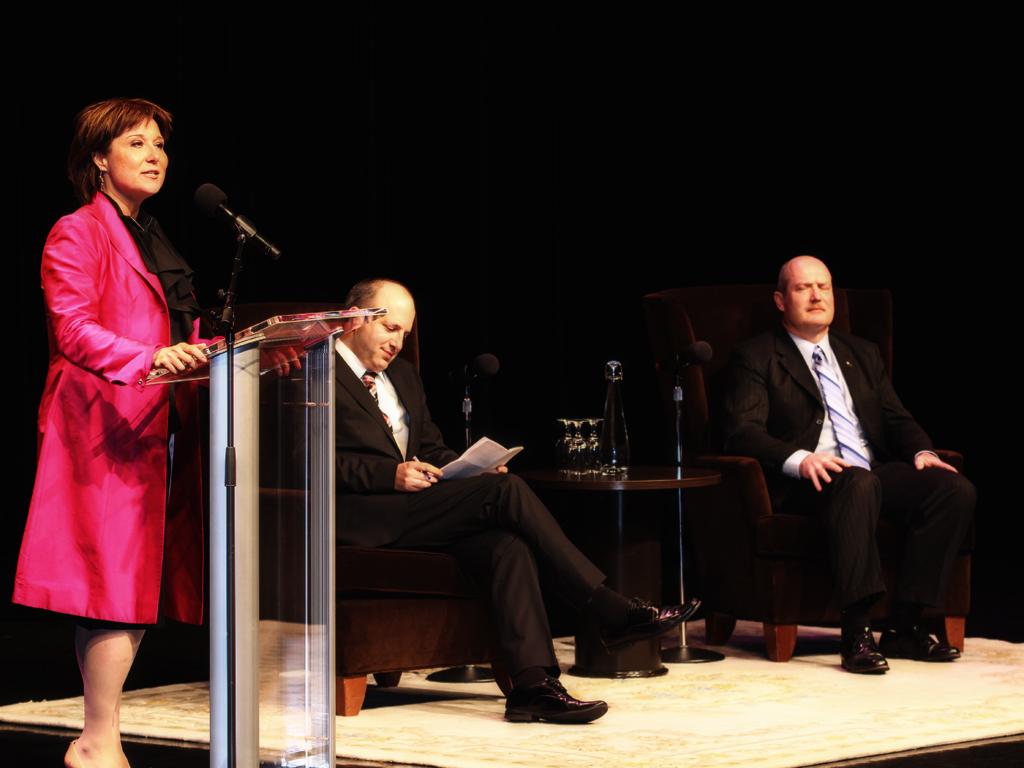 Campaign 2013…
Intrepid ink-stained wretch Les Leyne was the one and only journalist to cover my first and only Twitter Townhall in the dog days of summer 2012. Apparently I trended… briefly.
Globe & Mail, November 2012. In the eyes of David Parkins, apparently my positive outlook was going to make a splash. My mother admonished me for standing in a canoe.
Later, in March 2013, Parkins portrayed the campaign as the eternal tug of war. Again, I seem to be portrayed as the happy warrior, which is fine by me. Brian Topp needs to lighten up! But he's probably feeling a lot better after Alberta.
Mike Smyth piece on Brad Bennett here. We were channeling the 1983 campaign in building our strategy.
The Globe's Gary Mason wrote a lengthy feature on the campaign, which appeared in June 2013 here.
Another recap by Rob Shaw on the campaign here. "Sticking to the plan"
Proof of slow summer news days is Vaughn Palmer's July 2013 column lifted from one my last newsletters as Party Executive Director.
It is not the critic who counts; not the man who points out how the strong man stumbles, or where the doer of deeds could have done them better. The credit belongs to the man who is actually in the arena, whose face is marred by dust and sweat and blood; who strives valiantly; who errs, who comes short again and again, because there is no effort without error and shortcoming; but who does actually strive to do the deeds; who knows great enthusiasms, the great devotions; who spends himself in a worthy cause; who at the best knows in the end the triumph of high achievement, and who at the worst, if he fails, at least fails while daring greatly, so that his place shall never be with those cold and timid souls who neither know victory nor defeat. – Theodore Roosevelt